Council Approves Opioid Strategy
Published Sept. 20, 2017, 2:02 p.m.
Ontario is facing an opioid crisis, and the harms associated with the abuse and misuse of opioids continue to increase. Recognizing the important role pharmacy professionals can play in helping to curb this serious public health issue, the College has developed a comprehensive Opioid Strategy that will complement local, provincial and national efforts underway to reduce addiction, harms and mortality associated with opioids. This strategy was approved by College Council at the September 19 meeting.
The Opioid Strategy builds on the College's existing commitment to providing professionals with a number of practice tools and other resources related to opioids. These resources aim to help pharmacy professionals in providing appropriate care and support for patients who have been prescribed narcotics, while also helping to reduce the abuse and misuse of opioids and prevent overdose and addiction.
The Opioid Strategy has identified four strategic priorities:
Education for Pharmacy Professionals Regarding Opioid Issues

For example, identifying and collaborating on the development of a morphine equivalent dosing (MED) tool.

Opioid Dependence Treatment and Harm Reduction

For example, increasing access to naloxone (in pharmacies) for high risk opioid use patients.

Prevention of Overdose and Addiction

For example, enabling pharmacist adaptation of controlled substances to support tapering of opioids and targeted substances.

Quality Assurance of Practice

For example, initiating collaboration among healthcare providers to address management of opioids in hospital operating rooms and emergency departments.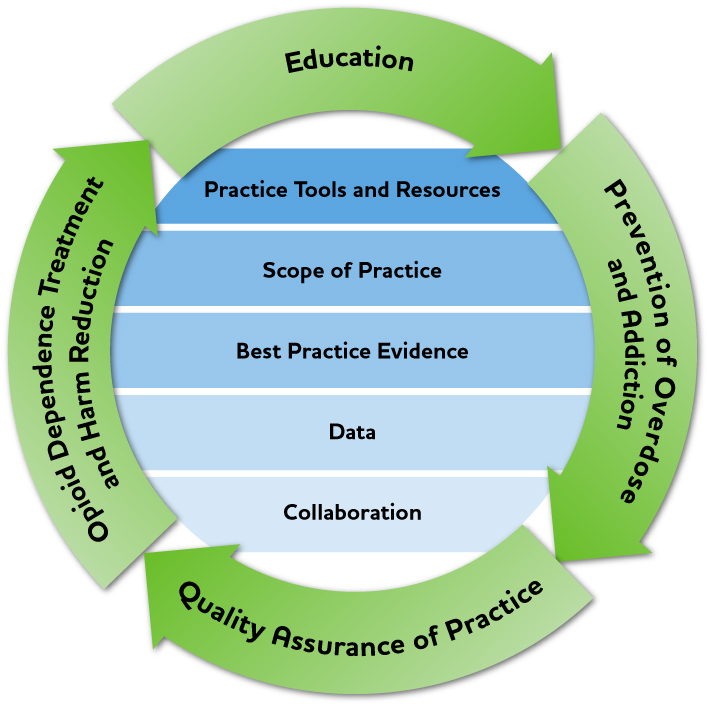 Each of these strategic priorities are supported by five strategic areas of focus: practice tools and resources, optimized scope of practice, best practice evidence, data and collaboration.
Further information on the strategy is available on our page An Opioid Strategy for Pharmacy.