Register Now to Attend an OCP Regional Meeting!
Published Aug. 15, 2017, 1:02 p.m.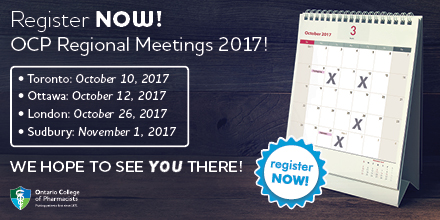 The College will be hosting a series of regional meetings this fall in Toronto, Ottawa, London, and Sudbury. Hear from College CEO and Registrar, Nancy Lum-Wilson, and her colleagues as they provide important updates on College priorities, highlight key initiatives underway, and share what's on the horizon that will influence pharmacy practice in the province. This information will give you the opportunity to help shape strategies that will advance our common goal of putting patients first.
Registration to attend in-person or remotely, via webcast, is now open
Toronto: October 10, 2017 at Sheraton Centre Toronto Hotel (webcast option available)
Ottawa: October 12, 2017 at Sheraton Ottawa Hotel
London: October 26, 2017 at Four Points London Hotel (webcast option available)
Sudbury: November 1, 2017 at Holiday Inn Sudbury
Register now to attend in-person
Register now to attend via webcast (where available)
------------
Regional Meeting Theme: Putting Patients First: Our Shared Goal
How We Work Together to Achieve a Common Goal of High Quality, Reliable and Safe Pharmacy Services for Ontarians
Pharmacy professionals continue to play an increasingly important role in our healthcare system while patient and public expectations that professionals will deliver safe, high quality and ethical care and services grow even stronger. As we prepare for what regulations will bring following the passing of the Protecting Patients Act, and as the government continues to implement its Action Plan for Health Care, we have a unique and powerful opportunity to tap into our collective goal of serving and protecting the public and to work together to promote better health outcomes and healthier communities.


Space is limited so be sure to register for this free event today!