Ontario is facing a serious public health and safety issue related to opioid use disorder, including prescription narcotics and other controlled substances.
College's Response to Opioid Crisis
The College is committed to supporting and complementing action undertaken by provincial and federal governments and other health system stakeholders to reduce opioid use disorder and prevent overdose and addiction. Already, we have focused on ensuring pharmacy professionals have access to educational resources to help them provide the best possible care for their patients. These include:
creating an opioid practice tool as a hub for relevant resources,
educating pharmacy professionals of their obligations related to opioid and narcotic security (e.g. Patch for Patch program),
providing guidance on the dispensing of naloxone,
making pharmacy professionals aware of external resources on best opioid prescribing and dispensing practices, and
encouraging inter-professional collaboration between prescribers and dispensers.
To further this work and ensure we are doing all we can do to address this crisis, the College has announced the creation of an opioid strategy.
A Comprehensive Opioid Strategy
The strategy, which was developed by the Opioid Task Force, addresses relevant areas of practice, and considers the health and social factors that are related to opioid use disorder. The full strategy was approved by College Council at its September 2017 meeting.
The College recognizes that no single initiative will fix Ontario's opioid-related issues and is committed to aligning with national and provincial opioid-related goals. To ensure that a sustainable and effective approach is taken to address opioid-related issues, the multi-pronged strategy simultaneously addresses relevant areas of practice.
This strategy supports the College in meeting its mandate to serve and protect the public's interest by:
advancing opioid-related education for pharmacy professionals,
improving harm reduction strategies and delivery of opioid dependence treatment,
preventing overdose and addiction by supporting evidence-based and appropriate dispensing practices, and
strengthening oversight of the provision of narcotic and controlled drugs to patients and the security of drug distribution.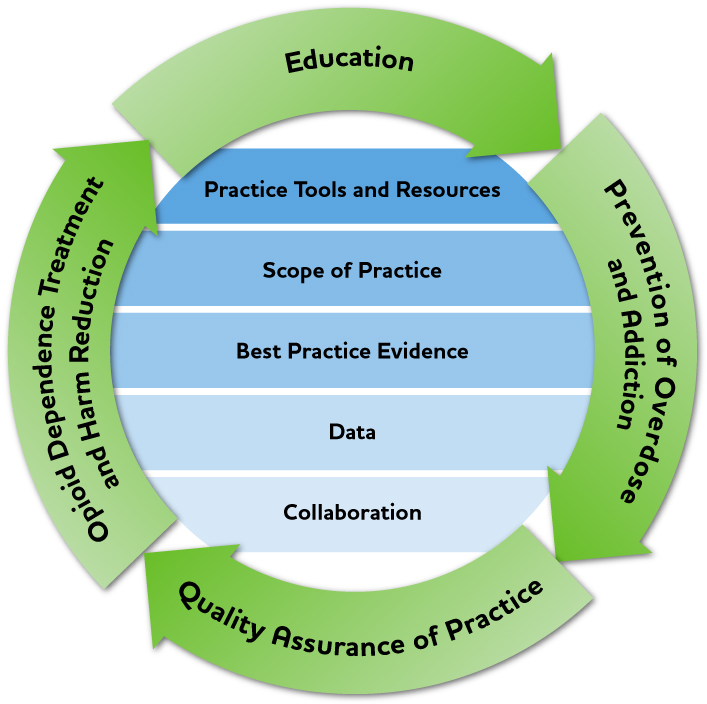 These priorities are supported by five strategic areas of focus: sourcing, developing and communicating practice tools and resources; optimizing scope of practice for pharmacy professionals; applying best practices and guidelines supported by evidence; using data to inform activities; and building collaborative relationships with relevant healthcare partners.
Read the Ontario College of Pharmacists: Strategy to Address Opioid Use Disorder in Ontario.
Read the FAQs on the Opioid Strategy.
Next Steps
With the approval of the strategy, College staff will prioritize and implement the key initiatives identified, with the support of an external working group where required. Additional opioid-related initiatives will continue to be undertaken by the College. At each Council meeting, progress on opioid-related initiatives will be reported through the Registrar's Report.
Read a February 2018 Update on the College's Opioid Strategy.
Opioid Dispensing in Ontario: 2018 Snapshot
As discussed at the September Council meeting, the College will be releasing a snapshot containing data analysis, as conducted by the Ministry of Health with NMS data, on opioid dispensing from 2013 to 2018 in Ontario. The goal of releasing this data analysis is to provide information to help the College, its partners and pharmacy professionals to identify areas for further education and collaboration, educate pharmacy stakeholders (including the public) about dispensing patterns in the province, and highlight opportunities for pharmacy professionals to assess and enhance the quality and safety of their opioid-related practice.
The data analysis focuses on three areas that are considered high-risk dispensing practices: incidence of high dose opioid prescriptions (new prescriptions), prevalence of high dose opioid prescriptions, and opioid and benzodiazepine co-dispensing. The data analysis was performed by the Ministry of Health and provided to the College in an aggregate format; no pharmacies or pharmacy professionals are identified.
Pharmacy Stewardship for Patient Safety
Pharmacy professionals play an important role in the procurement and distribution of narcotic and controlled substances for use in patient care. Therefore, they have a professional responsibility to take action to decrease the burden of current opioid issues faced by society.
The Code of Ethics, Standard 2.1 notes that members shall "utilize their professional judgment to make every reasonable and conscientious effort to prevent harm to patients and society. As medication experts, pharmacists are in a unique position to support the appropriate use and access to narcotic and controlled substances and collaborate with other health care professionals to enhance patient safety.