The Important Role of Pharmacy Professionals in Supporting Patients
As medication experts, pharmacists are in a unique role to support the appropriate use and access to narcotic and other controlled drugs. They are also in a position to engage in collaboration with other healthcare professionals to enhance patient safety. Additionally, pharmacy professionals are often the most accessible healthcare providers for patients and so may have opportunities to develop and identify best practices and provide additional support and education around opioid issues.
Framework for Improving the Safety and Security of Controlled Substances in Hospital High Risk Areas Published
As announced in the Fall 2019 edition of Pharmacy Connection, a new framework aimed at reducing the risk of diversion within hospitals has been established through the collaborative efforts of several health system and pharmacy stakeholders. As the sponsor of the Partnered Table to Improve the Safety and Security of Controlled Substances in Hospital High Risk Areas, the College is pleased to work with its partners to share the framework and contribute to system-wide responsibility aimed at reducing the harms associated with the use of controlled substances in our communities.
The recommendations in the framework are intended to focus on system level solutions and act as guidance for health system leaders and organizations. The recommendations address identifying diversion, shared accountability and responsibility, a culture of safety, collaboration, transitions of care, and knowledge translation/sharing across the health system.
Pharmacists and pharmacy technicians working in hospitals are encouraged to become familiar with the recommendations, identify any gaps that might exist in their practice setting, and bring the framework to the attention of pharmacy and hospital leadership. It will be important to look for opportunities for collaboration with other healthcare professionals to identify where there is a role for pharmacy professionals to adjust, enhance or share practices around controlled substances. College hospital operations advisors will also share and discuss the framework with hospitals as part of their regular assessments.
Learn more about the Framework for Improving the Safety and Security of Controlled Substances in Hospital High Risk Areas.
Progress Made Regarding the College's Opioid Strategy
In all activities related to our Opioid Strategy, the College is committed to supporting and complementing action undertaken by provincial and federal governments and other health system stakeholders to reduce opioid-related harms and prevent overdose and addiction. Initiatives and activities undertaken by the College that are aligned with the Opioid Strategy and its strategic priorities include:
Through pharmacy and practice assessments that take place at the pharmacy, College Operations Advisors and Practice Advisors are able to provide education regarding security of narcotics and controlled drugs as well as focus on appropriate pharmacist assessment, decision making, documentation and patient communication in relation to dispensing these drugs. Additionally, practice consultants provide support and resources to pharmacy professionals who contact the College with specific questions.
The College continues to look for opportunities to address the strategic priorities identified in the Opioid Strategy and to address the opioid-related harms that are still having a significant impact on communities throughout the province.
A Comprehensive Opioid Strategy
In 2017, the College published an Opioid Strategy for Pharmacy. The strategy, which was developed by the Opioid Task Force, addresses relevant areas of practice, and considers the health and social factors that are related to problematic opioid use. The full strategy was approved by College Board (Council) at its September 2017 meeting.
This strategy supports the College in meeting its mandate to serve and protect the public's interest by:
advancing opioid-related education for pharmacy professionals,
improving harm reduction strategies and delivery of opioid dependence treatment,
preventing overdose and addiction by supporting evidence-based and appropriate dispensing practices, and
strengthening oversight of the provision of narcotic and controlled drugs to patients and the security of drug distribution.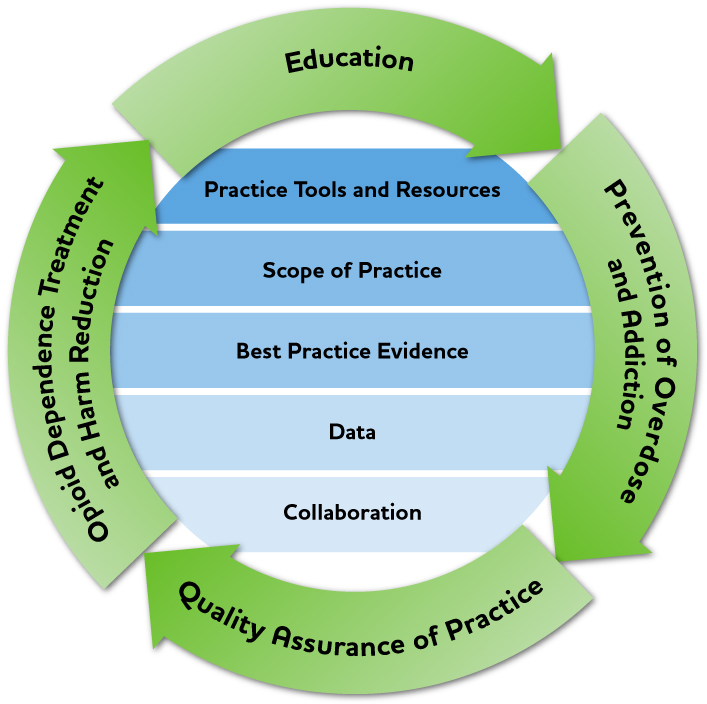 These priorities are supported by five strategic areas of focus: sourcing, developing and communicating practice tools and resources; optimizing scope of practice for pharmacy professionals; applying best practices and guidelines supported by evidence; using data to inform activities; and building collaborative relationships with relevant healthcare partners.
The creation of an opioid strategy specifically related to pharmacy recognizes that as healthcare professionals, pharmacists and pharmacy technicians have an important role to play in responding to serious public health issues affecting our patients, communities and the province at large. As medication experts, pharmacists are also in a unique position to support the appropriate use and access to narcotic and controlled substances and collaborate with other health care professionals to enhance patient safety.
Read the Ontario College of Pharmacists: Strategy to Address Opioid Use Disorder in Ontario.