In approving the new Code of Ethics the Board (Council) established a requirement for all current (and new) pharmacists and pharmacy technicians to declare " in 2017 " that they have read and understood the Code of Ethics.
e-Learning Modules
To support and assist practitioners in making this commitment, and understand how the Code of Ethics applies in everyday practice, the College developed a series of e-Learning modules.
The first in the series provides an overview of the role and purpose of the Code of Ethics, outlines the professional role and commitment all healthcare professionals share and introduces the social contract and core ethical principles of healthcare that must guide the everyday practice of pharmacists and pharmacy technicians.
Code of Ethics Introduction: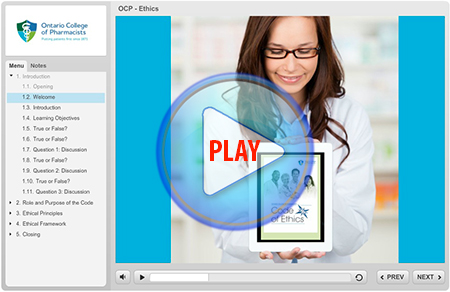 More Code of Ethics e-Learning Modules:

Video Practice Examples:
Resources: