By asking pharmacists to anonymously report medication incidents and "good catches," the program enables practitioners to learn from medication events, better understand why they happened, and how they can be prevented. Through proactive reviews of work processes to identify areas of risk and retrospective reviews of specific medication events, pharmacy professionals are better equipped to prevent incidents and enhance patient safety.
Medication incidents: Any preventable event or error that reaches a patient and that may cause or lead to inappropriate medication use or patient harm.
Good catches: An event that could have led to inappropriate medication use or patient harm but was intercepted before it reached the patient (previously referred to as "near misses").
AIMS Data
The College has developed an interactive tool that allows pharmacy teams and other stakeholders to view aggregate, anonymous medication safety data available through the AIMS Program. This information is intended to help support quality improvement initiatives. Knowing which types of medication incidents are most likely to occur, when, and why will help pharmacists identify and close gaps in their own workflows. Using data also supports establishing benchmarks and measuring progress.
AIMS Safety Insights Group (SIG)
The AIMS Safety Insights Group (SIG) is responsible for providing guidance and actionable recommendations for pharmacy professionals and other stakeholders that will be shared through regular reports based on analysis of AIMS data. Further information and materials from the AIMS SIG can be found here.
AIMS Training and Resources
The AIMS Program is mandatory for all community pharmacists in Ontario. Community pharmacy staff must complete the six e-learning modules that introduce the AIMS Program, set expectations for pharmacy professionals, and provide information on how to use the AIMS Pharmapod platform. The modules take less than one hour to complete.
Effective implementation of the AIMS Program into a pharmacy requires all pharmacy staff to have a full understanding of the program and how to use the tools available on the platform. After completing each module, registrants can print a Certificate of Completion to confirm they have reviewed the content. This certificate may be kept for your own records and does not need to be submitted to the College.
The Pharmacy Safety Self-Assessment User Guide provides an overview of and guidance on completing the Pharmacy Safety Self-Assessment (PSSA). Community pharmacies were required to complete their first PSSA by December 31, 2021, and will be required to complete them on a regular basis going forward.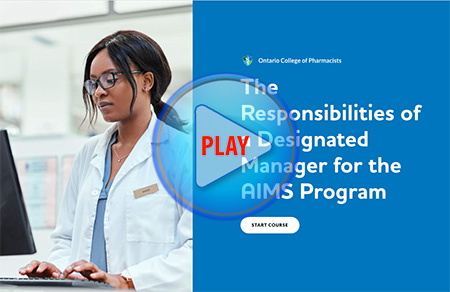 View The Responsibilities of a Designated Manager for the AIMS Program here
Key Points
The AIMS Program:
Encourages shared accountability between pharmacies and pharmacy professionals for the systems they design, how they support staff, and how they manage medication incidents
Emphasizes learning and accountability through a safety culture where individuals are comfortable bringing forward medication incidents without fear of punitive outcomes
Enables knowledge sharing on lessons learned, which results in ongoing process improvements to minimize errors and maximize health outcomes.
Contact Information