Cannabis Strategy for Pharmacy
A Cannabis Strategy for Pharmacy: Enhancing Knowledge, Protecting Patients
Background
Bill C-45, the Cannabis Act, came into force on October 17, 2018. The Act regulates the production, distribution and sale of cannabis for recreational (non-medical) purposes. Health Canada is maintaining the current model for cannabis for medical purposes, which means that cannabis for medical purposes will not be dispensed through pharmacies.
In September 2017, The Board (Council) agreed to establish a Cannabis Task Force to develop a cannabis strategy given the changing landscape of cannabis in Ontario. The Task Force developed "A Cannabis Strategy for Pharmacy," which simultaneously addresses relevant areas of practice and prepares the College and pharmacy professionals to address evolving cannabis-related issues, while considering how to best serve and protect patients and Ontarians in line with the College's mandate.
At the June 2018 Board (Council) meeting, the Board (Council) endorsed the strategy. It consists of four priorities, which together through effective communication and collaboration, will support the College's mandate to serve and protect the public's interest:
Developing and maintaining competency
Key goal: Pharmacists are educated on the use of cannabis for medical or recreational purposes, the benefits and risks of cannabis, and the potential interactions of cannabis with medications and health conditions.
Providing patient care, health information and advice
Key goal: Pharmacists use their knowledge and skills to provide information and advice to patients that considers the efficacy, benefits and risks of cannabis, and its interaction with medications, other treatments and health conditions.
Documenting, developing and tracking data
Key goal: Pharmacists document patients' cannabis use and other data, such as healthcare or clinical data, to create a comprehensive patient profile; and the College supports the profession's participation in research efforts with various stakeholders to strengthen the evidence base on cannabis use.
Preventing harm
Key goal: Pharmacists are engaged in supporting patients in accessing appropriate health services and applying harm prevention strategies in collaboration with regulated healthcare professionals and public health stakeholders.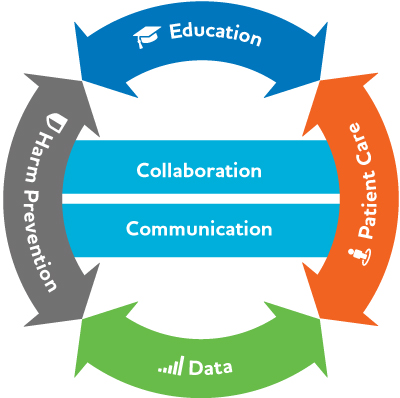 The Strategy's purpose is to facilitate the ability of pharmacy professionals to respond to changes in the pharmacy practice environment related to the increased prevalence of cannabis. It was created with the objects of the College in mind, namely to "develop, establish and maintain standards and programs to promote the ability of registrants [regulated pharmacists and pharmacy technicians] to respond to changes in practice environments, advances in technology and other emerging issues."
Read more by downloading "A Cannabis Strategy for Pharmacy" (PDF).
The College has been working with pharmacy stakeholders and professionals to bring this Strategy to life and to support pharmacy professionals in providing optimal patient care for those who may consume cannabis.
Any questions about the strategy can be directed to pharmacypractice@ocpinfo.com.

The College's Cannabis Position:
Throughout the creation of the Strategy, the Task Force expressed support for the development of a College position statement building on the existing National Association of Pharmacy Regulatory Authorities (NAPRA) position and further defining an appropriate regulatory opinion within the provincial context. At its June 2018 meeting, the Board (Council) approved an expanded position on the distribution of cannabis that builds on its previous endorsement of the position of NAPRA concerning the distribution of recreational cannabis in pharmacies.
With the recognition that the dispensing of cannabis within pharmacy is currently not permitted within the existing legal framework, the Ontario College of Pharmacists would:
Not oppose any federal or provincial legislation that would permit the dispensing of non-smoked forms of cannabis for medical use within pharmacies
Not oppose legal dispensing for medical use within pharmacies regardless of whether cannabis is approved as a drug by Health Canada or whether it receives an assigned Drug Identification Number provided that sufficient quality control measures are put in place by Health Canada
Oppose the distribution by pharmacies of any forms of cannabis for the exclusive use or purpose of smoking, and in accordance with any provincial legislation.
Education requirement for Part A pharmacists
In recognition of the important role education would be playing within the Strategy, the Task Force recommended in March 2018 that all pharmacists complete cannabis education in preparation for the anticipated practice changes due to the legalization of cannabis for recreational use. This recommendation was approved by the Board (Council), allowing the College to begin work on developing competencies and learning objectives for cannabis education in keeping with the Strategy's priorities.
During the 2020 pharmacist annual renewal process, pharmacists had to declare that they have completed a College-approved cannabis course. If you are a pharmacist who has not completed this mandated training, please contact Applications & Renewals at registrantservices@ocpinfo.com.
Additional information regarding the mandatory education requirements and a list of approved cannabis education courses can be found on the Cannabis Training Requirements and Courses page of the College website.
The evolution of cannabis
The College recognizes that cannabis is an evolving matter and may update its position and Strategy as the legislative and regulatory framework in Canada and Ontario related to access and distribution of cannabis evolves and becomes more defined over time.
In the meantime, as always, the College expects all pharmacy professionals and pharmacies, including pharmacy owners, operators and designated managers, to act in accordance with established laws and regulations, standards of practice and code of ethics.
Jump To: